Natasha et Olivier
---
Natasha and Olivier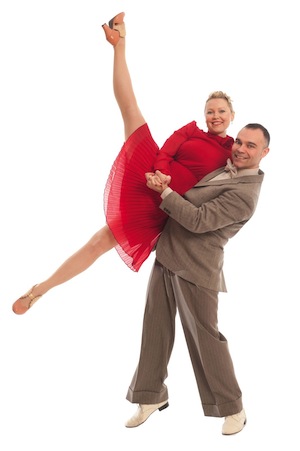 Natasha and Olivier are successful instructors, competitors and performers. They have won numerous contests and In April 2013 at the Balboa Rendez-vous, they were the first European couple to win the title of Champion IBC (International Balboa Championship) in the famous Balboa Pavilion in Newport Beach (USA) ! They also placed 3rd at the highest ranked Balboa competition in 2011, the American Classic Balboa Championships. More than competing they enjoy social dancing and sharing their passion with others.

Natasha is Russian and has been dancing since she was seven (ballroom dancing, competing and teaching at a very high level). In 2001 she discovered swing dancing and simply fell in love with it. She joined innumerable swing dancing workshops in Russia and other countries, and soon became one of the best Russian dancers and teachers. She fills the most complicated step with grace and makes it look so easy.

Olivier is French and discovered his big passion for Swing in 2001. He started competing and soon he placed under the first eight in the French Boogie Woogie ranking list. Olivier is one of the best leaders in the world and bewitches each lady with his French charm and esprit.

They have met each other at the Herräng Dance Camp in Sweden in 2001 and soon decided to team up as a dance couple. They started teaching in 2003. They have build up regular classes in Toulouse and in 2005 when they moved to the Côte d'Azur near Cannes, they have started to develop the Swing culture there.

In 2006 Natasha and Olivier started competing together and became NJC Balboa Champions in the Amateur division for their first run in US Championships and 5th in the NJC Lindy Hop Championship and jumped up into the Pro Division. During the same year they became finalists in Jitterbug competitions in Italy, Munich and in the Balboa Open (BOTP in Cannes), the Euro Bal' Cup (Frenchie Balboa Festival in Toulouse) and reached 3rd place in the Balboa Cup at the Rock That Swing Festival in Munich.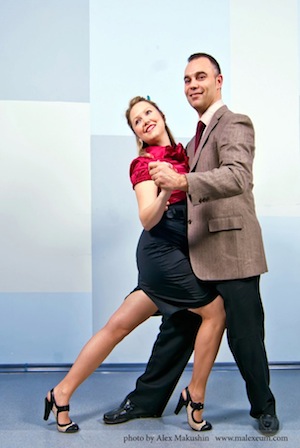 They are permanent students in all styles of dancing and are constantly trying to learn how to improve their skills and way of teaching. They compete for fun but they enjoy especially the social dancing and exchanges around the world by sharing their passion with others. Their blend of two cultures has been creating an original style of dancing and a very personal style of teaching in particularly all kinds of swing dancing: Lindy Hop, Boogie Woogie, Balboa and West Coast Swing.

Their creativity and musical synergies are matched and their professionalism, kindness and humour take them to teach in some of the biggest camps in the world of Swing. They are also the main organizers behind the acclaimed festivals Balboa on the Promenade and Westie on the Promenade which happen annually at the Cote d'Azur.


Palmares
1st place International Balboa Championship - Balboa Rendez Vous 2013 (San Diego & Newport Beach, USA)
3rd place Open American Classic Balboa Championships - All Balboa Weekend 2011 (Cleveland, USA)
1st place Pro Euro Bal Cup - Frenchie Balboa Festival 2009 (Toulouse, France)
1st place Open J&J - All Balboa Weekend 2009 (Cleveland, USA)
Finalist Open Classic Balboa - All Balboa Weekend 2009 (Cleveland, USA)
2nd place Pro Euro Bal Cup - Frenchie Balboa Festival 2008 (Toulouse, France)
1st place West Coast Swing J&J - Westie Camp 2008 (Paris, France)
1st place Open Balboa Crazy Rhythm Challenge - SHSC 2008 (Eauze, France)
1st place Show Case Crazy Rhythm Challenge - SHSC 2008 (Eauze, France)
2nd place Fast Lindy Hop Crazy Rhythm Challenge - SHSC 2008 (Eauze, France)
2nd place Fast Feet Crazy Rhythm Challenge - SHSC 2008 (Eauze, France)
2nd place Team Crazy Rhythm Challenge with Freelance Swingers - SHSC 2008 (Eauze, France)
2nd place Team with Freelance Swingers - GLX 2008 (Grenoble, France)
2nd place Fast Feet - Grenoble Lindy Exchange 2008 (Grenoble, France)
2nd place Show Case - Grenoble Lindy Exchange 2008 (Grenoble, France)
Finale Euro Bal Cup - Frenchie Balboa Festival 2007 (Toulouse, France)
2nd place Team Contest with Freelance Swingers - Barswingona 07 (Barcelona, Spain)
Finale Euro Bal'Cup - Frenchie Balboa Festival 2006 (Toulouse, France)
1st place National Jitterbug Championship Amateur Balboa Division 2006 - Camp Hollywood (Los Angeles, USA)
5th place National Jitterbug Championship Amateur Lindy Hop Division 2006 - Camp Hollywood (Los Angeles, USA)
Finale Open Balboa - BOTP 2006 (Nice, France)
3rd place Euro Bal'Cup - Rock That Swing Festival 2006 (Munich, Germany)
Finale Jitterbug Contest - Rock That Swing Festival 2006 (Munich, Germany)
---